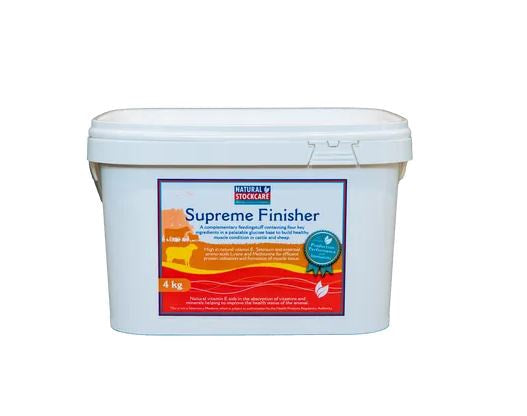 Supreme Finisher
Regular price €90.00 Sale
High Performance Supplement
Supreme Finisher provides concentrated Natural Vitamin E for animals needing the highest level of nutritional input. Natural Vitamin E balanced with Selenium, Lysine and Methionine in an appetising glucose base results in a supplement ideal for breeding stock.
Supreme Finisher is a powerful anti-oxidant formula that helps to protect muscle tissue from the toxic effects of free radicals.
High Natural Vitamin E content consequently causes natural peak performance.
Natural Vitamin E aids in the absorption of vitamins and minerals. As a result improves the health status of the animal, including production, performance and immunity.
In addition their are four key ingredients in glucose base.
Certainly assists in the maintenance of fertility.
Therefore, helps to maintain healthy muscle tissue.
Supreme Finisher also helps build healthy muscles and aids fertility.
Minimum analytical constituents per 50g:
Additives (per kg)
Lysine – 2,750 mg
D. L. Methionine – 1,000 mg
Selenium – 1 mg