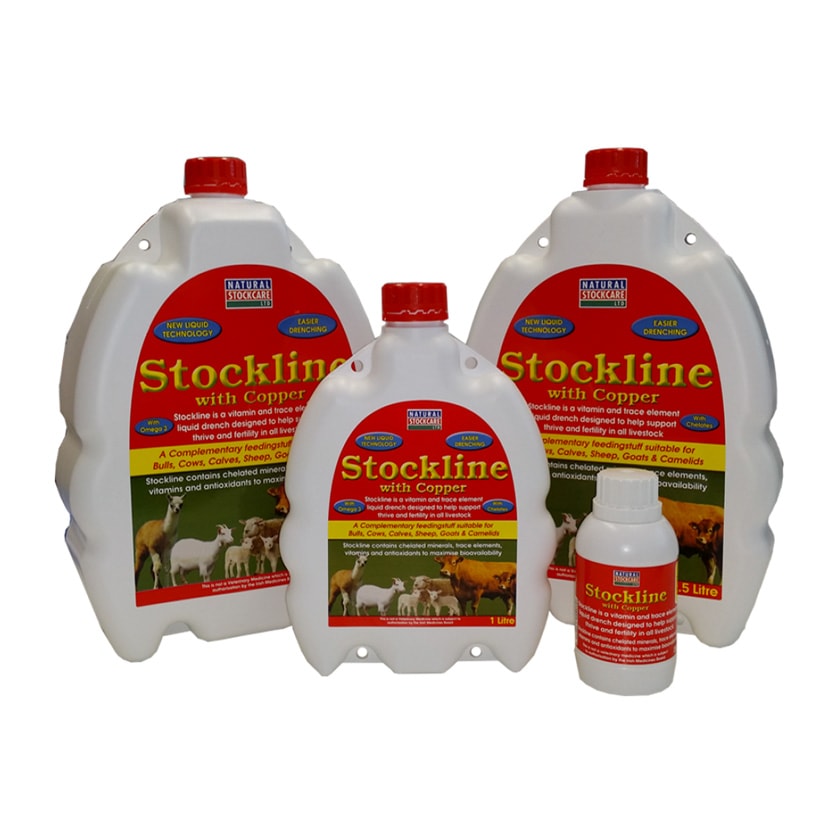 Stockline with Copper (Buy 5L get 1L FREE)
Regular price €50.00 Sale
Description
Stockline with Copper contains chelated minerals, trace elements, vitamins and antioxidants to maximise bioavailability . Most importantly this vitamin and trace element liquid drench has been designed to help support thrive and fertility in all livestock.
Now containing ALL NEW organic trace elements which use unique structures to replace inorganic forms which are poorly absorbed by animals. As a result this new unique form of liquid technology has properties designed to achieve higher absorption of trace elements and benefit performance of animals. This results in a greater impact on zoo-technical performance in many species, compared to other types of trace elements for more noticeable results.
An all NEW easy flowing technology has been introduced to Stockline with Copper; this new innovative technology surpasses the current formulations on the market in appearance, smell and use, accurate dosing to requirements and less waste to the environment.
Stockline with Copper & Iodine contains the NEW Easy Flowing Technology:
More reliable measurement of the dose
As a result the Drenching Gun fills quicker
Similarly the Drenching Gun Does not block
Therefore three is a longer life of the drenching Gun
Every last drop from the container is used
Consequently there is less waste
Applications:
Ewes – 7.5 ml per adult animal – 75kg Ewe.
Tups- 7.5 ml 4 to 6 weeks prior to tupping.
For all lambs after weaning and at 2/3 month intervals
Lambs up to 10kg – 1.5ml.
Lambs up to 20kg – 2.5ml.
Cows- 60mls at drying off and returns to service.
Cattle/Calves- 5mls per 50kg body weight.
Goats and Small Camelids* as for sheep.
Large Camelids* as for cattle.