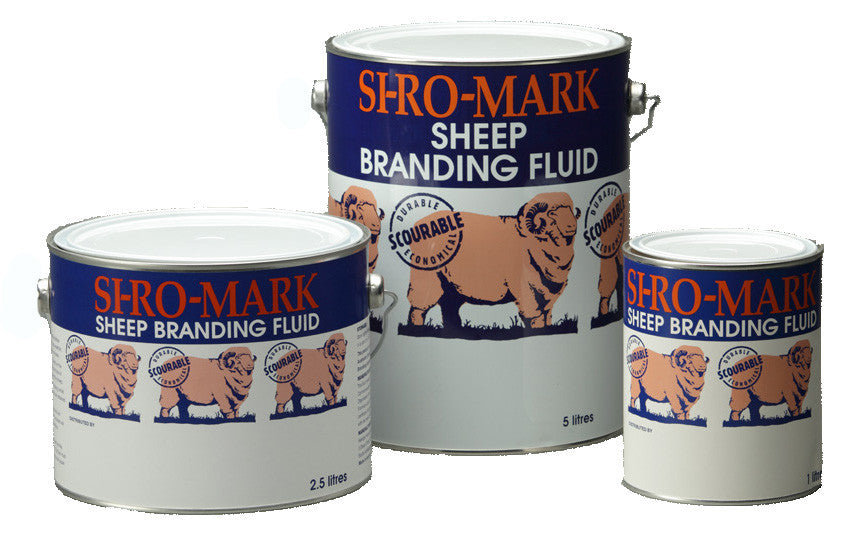 SIRO-MARK branding fluid
Regular price €32.00 Sale
Description
The world's number one sheep branding fluid
Available in red, blue, green, purple, orangeAvailable in 1L, 2.5L and 5L
When a farmer brands their sheep they seek a branding fluid that will remain identifiable for one year and is completely removed from the fleece in ordinary processing
When a farmer brands their sheep they seek a branding fluid that will remain identifiable for one year and is completely removed from the fleece in ordinary processing.
SI-RO-MARK
• Is a lanolin based sheep branding fluid compound
• Is used for livestock identification purposes including ownership, breed type, age, productivity, and most importantly fleece identification
• Remains identifiable for up to one year
• Is completely removed in the normal scouring process
• Is easy and economical to use
• Can be applied to wet or dry sheep
• As non-scourable brands result in lower wool prices and wool wastage the use of SI-RO-MARK saves the wool of industry millions of euro each year
Weather
- Use with confidence in any weather. Si-ro-mark shows outstanding results on wet or dry sheep.
Economical
- A 5L tin of Si-ro-mark can brand up to 1,200 sheep, saving you money.
Lasts longer
- Remains identifiable for more than a year, saving you time.
Colours
- Available in 5 bright, clearly visible colours; red, blue, orange, green and purple.
Performance
- The product of a unique manufacturing process, Si-ro-mark offers unmatched performance.
Tried and tested
- Trusted by professional sheep farmers. Si-ro-mark is the world's favourite branding fluid.
Approved
- Approved by the Wool Marketing Boards of Great Britain, Australia, Europe and many others around the world.
Scourable
- Completely scourable.