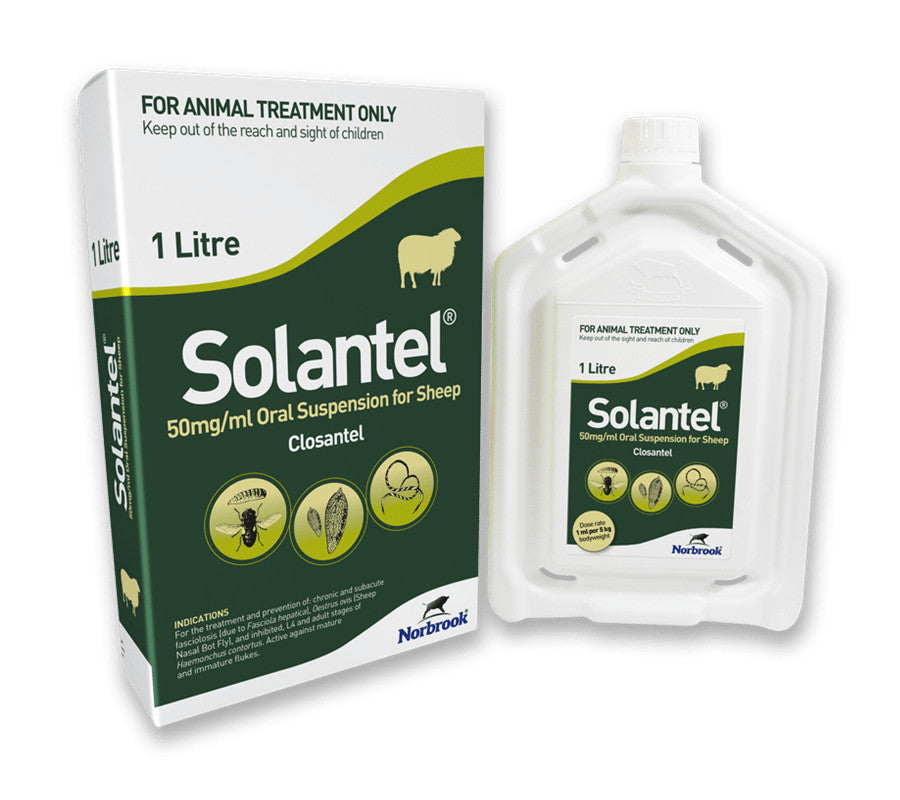 Solantel
Regular price €42.00 Sale
For the treatment of chronic and subacute fasciolosis (due to Fasciola hepatica). The product is effective against mature and late immature flukes (from 5 weeks immature).
For the treatment of Oestrus ovis (Sheep Nasal Bot Fly).
For the treatment of inhibited, L4 and adult stages of Haemonchus contortus ('barber's pole' worm).
Instructions:
Given orally as a drench, solantel is suitable for use with most standard drenching equipment. 
Dosage:
10 mg of closantel per kg bodyweight (i.e. 1 ml of product per 5 kg bodyweight)
| | |
| --- | --- |
| Body weight | Dosage |
| Up to 5kg |  1ml |
| Up to 10kg |  2ml |
| Up to 20kg |  4ml |
| Up to 30kg |  6ml |
| Up to 40kg |  8ml |
| Up to 50kg |  10ml |
| Up to 60kg |  12ml |
| Up to 70kg |  14ml |
| Up to 80kg |  16ml |
 More Details
Contains closantel
Kills immature andadult fluke
Kills triclabendazole resistant fluke