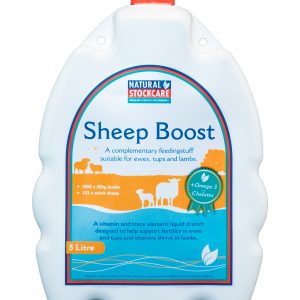 Sheep Boost (Buy 5L get 1L FREE)
Regular price €55.00 Sale
Sheep Boost is a highly concentrated supplement suitable for sheep, rams and lambs. Sheep Boost contains essential vitamins, minerals, trace elements and antioxidants. The combination of all these elements helps to improve fertility, performance of lambs and improves the general health of all treated stock.
Sheep Boost
Increased Fertility: Sheep Boost will increase fertility in all treated animals and will increase conception rates on the farm as well as increasing ram endurance.
Lamb Mortality: Sheep Boost will increase the amount of lambs born alive
Lamb Growth and Vitality: Sheep Boost will help lambs thrive and will maximise growth rates.
Recovery: The combination of minerals and supplements aids animals in times of recovery following diseases and infections.
General Health: Sheep Boost helps to promote a healthy immune system and aids in the general good health of sheep.
Features
To ensure that Sheep Boost is being fully effective it is recommended that it is used at the times outlined below.
4 weeks prior to mating or flushing

4 weeks before lambing

Given to a ewe after a difficult birth

When drenching for worms & fluke

To aid in recovery after illness
Stock Boost contents
Contents Per Litre

Vitamin A

5125000 iu

Vitamin D3

400000 iu

Vitamin E

12500 mg

Niacin

2700 mg

Vitamin B1

2000 mg

Vitamin B2

1500 mg

Omega 3

1300 mg

Pantothenic Acid

1250 mg

Vitamin K

125 mg

Biotin

3 mg

Vitamin B12

9500 mg

Zinc Chelate

5600 mg

Manganese Chelate 

1850 mcg

Iodine (as Pottasium Iodine) 

1000 mg

Cobalt (from Chlodide)

95 mg

Selenium (from selenite)

36 mg

Propylene Glycol

12000mg

Vitamin K

25000 mg
​Dosage Rates
Body Weight

Dose Volume

Number of full doses per pack:

1 Litre

2.5 Litre

5 Litre

Lambs Up to 10kg

3 ml

333

833

1666

Lambs up to 20KG

5 ml

200

500

1000

Ewes

15 ml

66

166

333

Rams

15 ml

66

166

333