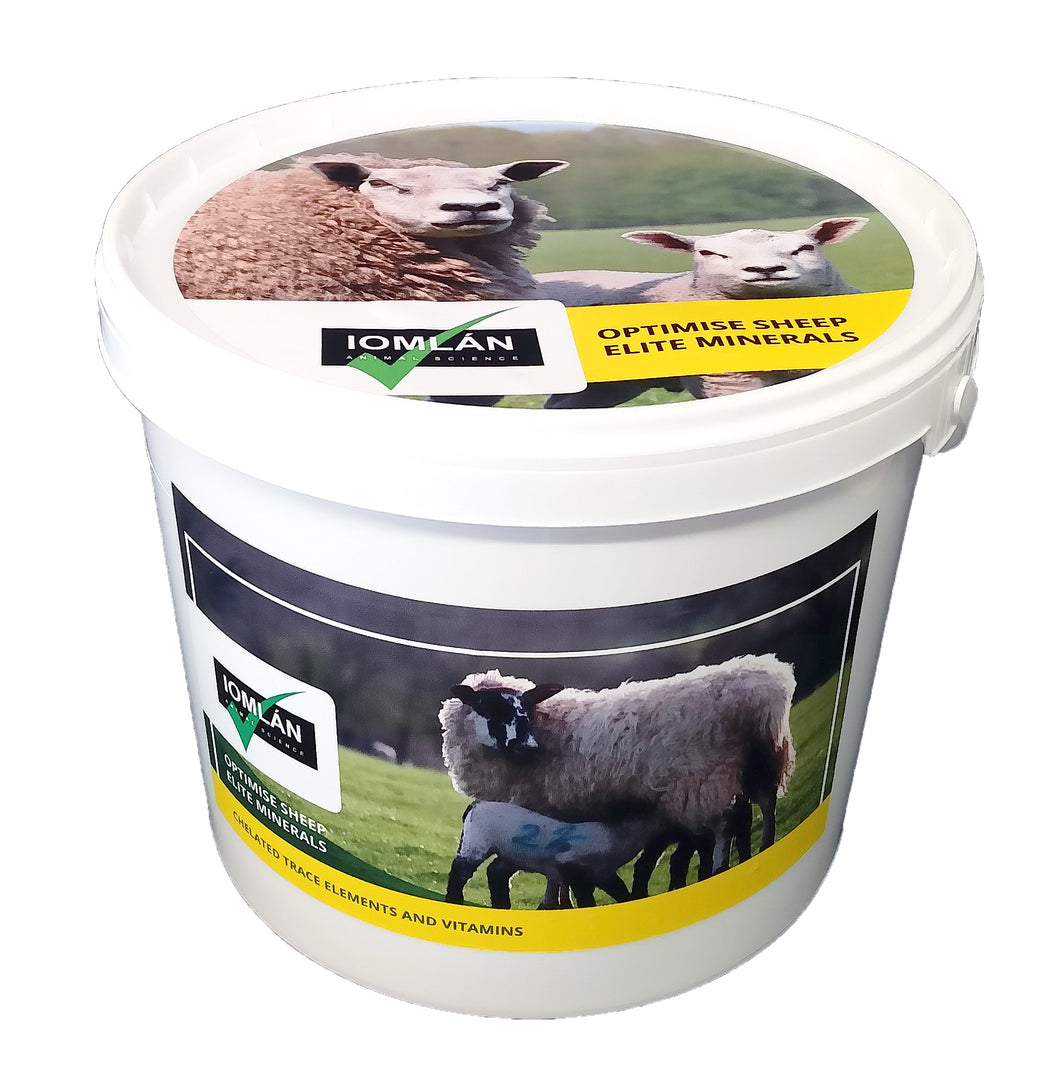 Optimise Elite Sheep minerals
Regular price €20.00 Sale
Optimise Sheep Elite
Dry powdered high performance minerals & vitamins for sheep
Contains chelated trace elements
Contains a complete range of vitamins to optimise performance
High levels of Vitamin E
Does NOT contain Copper
Ideal supplement for flushing ewes both (donor & recipient) for embryo transfer and A.I. programmes
Fed to ewes 5-6 weeks pre-lambing to help improve colostrum quality and lamb viability.
Ideal source of minerals & vitamins for growing lambs and rams for show & sale.
Fed to rams pre-breeding to optimise fertility.
Feeding instructions
Ewes 20-25g/head/day pre-lambing
Flushing Ewes feed 25g/head/day
Rams 30g/head/day
Lambs 5-15g/head/day
Start supplementing rams 7- 8 weeks pre-breeding 
Composition
Monocalciumphosphate, Magnesium oxide, Wheat tailings, linseed, calcium carbonate, sodium chloride, vegetable oil (Refined rapeseed oil)
Additives per Kg:
Vitamins, provitamins and chemical well-defined substances having similar effect:
Vitamin A (3a672a)      750000 IU
Vitamin D3 (E671)          75000 IU
Vitamin E (3a700)             5000mg
Compounds of trace elements:
Zinc sulphate monohydrate (3b605)      6000mg
Zinc chelate of glycine hydrate (3b607) 1000mg
Manganous sulphate monohydrate(3b503) 4500mg
Cobalt coated granulated carbonate (3b304) 100mg
Calcium Iodide, anhydrous (3b202)                    50mg
Selenium - Sodium selenite (E8)                          30mg
Selenium – Lselenomethionine (3b815)             20mg
Antioxidants
BHT (E321)                2000mg
Analytical constituents
Calcium 9%
Phosphorus 7%
Sodium 2%
Magnesium 8%
Best before 12 months after production date, keep in a dry, cool and dark environment.
Feed next to a daily ration (Roughage and concentrates)
Production Date:
Batch number:
Net weight 5kg