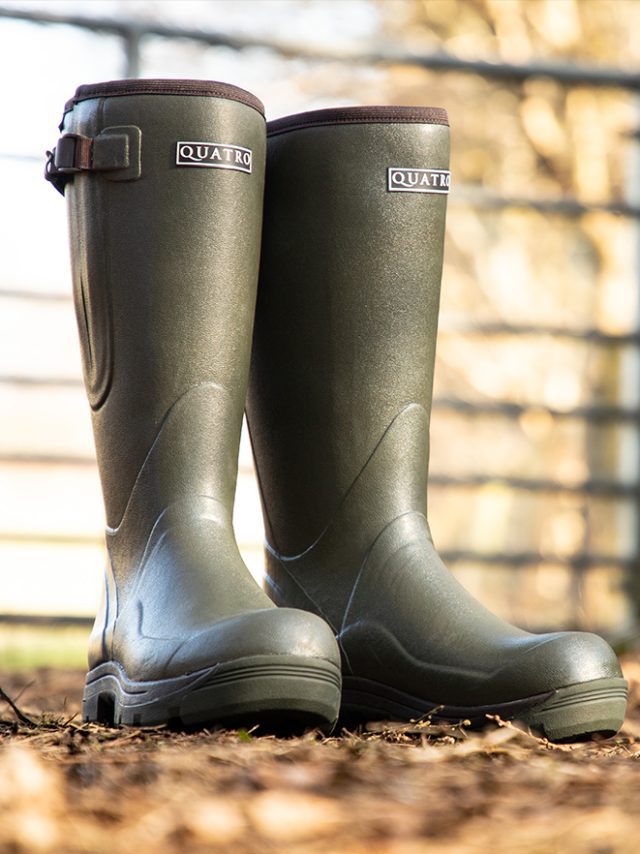 Skellerup Quatro Sport
Regular price €139.95 Sale
The Skellerup Quatro Sport is the latest boot from Skellerup and features an all new design including an adjustable gusset and tightening strap, providing a better fit for larger calves.
The green rubber compound used in the Quatro Sport has been developed extensively to provide high resistance to chemicals, oils and manure. As well as featuring a newly developed rubber compound, the Quatro Sport is a taller boot than the Black Quatro, which provides higher coverage up the leg and allows for deeper wading.
The Skellerup ankle locking design is still present in the Quatro Sport, which prevents the foot lifting inside the boot. This stops the boot feeling "sloppy" when walking and helps to prevent blisters from rubbing wellies.
The Quatro Sport also features a re-profiled toe, removing the industrial look of the Black Quatro and giving a more casual silhouette. With a thick neoprene insulation, the Quatro Sport still retains all the warmth that you would expect from an insulated boot.
•Newly developed green rubber compound
•Higher leg coverage
•Adjustable waterproof gusset
•Ankle locking design
•Re-profiled toe
•4mm fleece lined neoprene insulation
Sizing:
Skellerup boots are known for being a large fit. If you are normally between sizes, or on the small side of your normal shoe size, we always recommend ordering a size below what you would normally wear.