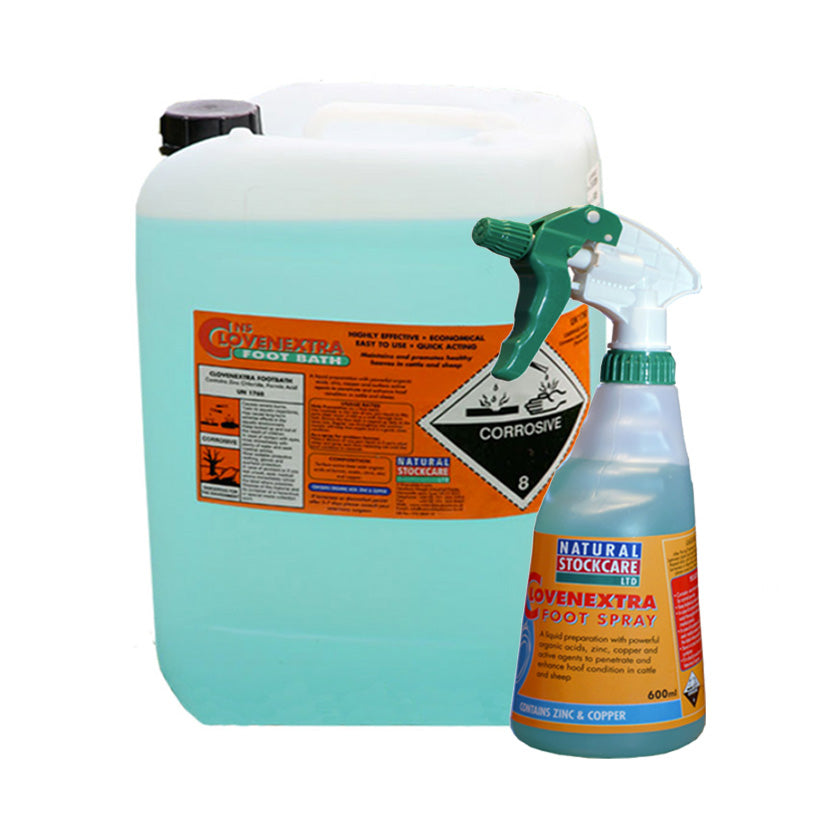 Clovenextra footbath
Regular price €20.00 Sale
Powerful organic acids, zinc, copper and surface-active agents to penetrate and enhance hoof condition.
A liquid preparation with powerful organic acids, zinc, copper and surface-active agents to penetrate and maintain hoof condition in cattle and sheep.
Usage rates:
Use routinely at the rate of fifty parts clean water to one part liquid (50:1) as a walk through Footbath. Ensure the Footbath is topped up daily at the same rate. When foot trimming and using as a general treatment, first clean the hoof and apply liberally to the affected area.
As a spray for problem hooves (take care not to spray the legs):
In severe cases or after foot trimming a 20% solution can be sprayed onto the hoof for effective treatment.
As a preventative:
Use for five consecutive milkings, every four weeks in foot bath making sure to start with a 50:1 dilution. Add 1 litre per day after day 1 – keep the solution up to strength. If the bath gets too fouled, clean out and refill.
Regular use will assist with the prevention of environmentally spread bacteria pathogens.
To prevent infection build up in collecting yards and concreted areas use in knapsack sprayer at a 50:1 dilution once per week while infection is being treated and then once every two weeks. For best results use in conjunction with antibiotics under vet's supervision, use antibiotics on the first bath and Clovenextra in-between for five milkings, every four weeks.
Important:
Regular use throughout the summer months will keep feet supple and in good, clean condition whilst new growth will help condition when cattle are housed.