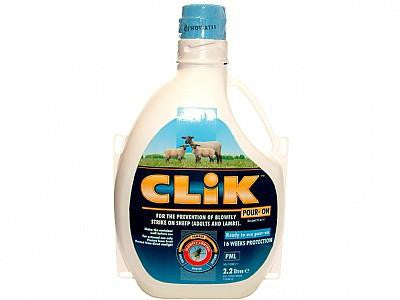 Clik Pour-on
Regular price €170.00 Sale
Clik Pour-On prevents against blowfly strike in sheep and lambs. Clik Pour-On's ​advanced formula will prevent blowfly strike for up to 16 weeks. For preventing Blowfly strike.
Withdrawal Time: 40 days for sheep intended for meat and offal. not recommended for sheep producing milk for human consumption
Dosage for sheep: 0.6-2 ml per 1 kg of bodyweight.
Body Weight

Dose Volume

Number of worm doses per pack

2.2 Litre

5 Litre

10-20kg

20 ml

110

250

21-30kg

25 ml

88

200

31-50kg

30 ml

73

166

>50kg

35 ml

62

142
FleeceBind spreads and binds
The benefits of CLiK and CLiKZiN with Fleecebind
CLiK and CLiKZiN are the only IGRs with FleeceBind technology, providing full fleece protection*
Spreads from tip to base of fleece, around the animal and onto new wool growth
Binds the formulation strongly in place and sticks to the wool even if applied to damp fleece
Provides consistent protection, practical cover and resistance to washout